Hello loves! Can you believe it is the very first Monday of 2011? I don't know about you, but 2010 just about FLEW by for me, and I hope to be able to really savor 2011 a little more. That is, if it happens to treat me right, otherwise, it can just keep going!
One little thing that always makes my Monday is the Mingle Monday series over at
Life of Meg
.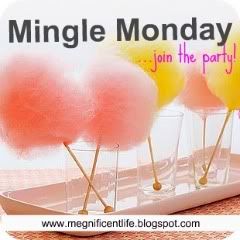 If you are new to MM, go have yourself a look-sie and join up. It's a great way to check out new blogs and have others find you as well. I love the positive vibe Meg always has on her blog, and in this particular series. It's a fantastic way to begin a week, so hop on over and participate!