Mingle Monday! I don't wish it was Sunday. Oh OK, I will spare you the horror of my improvised song making.
But really, Mondays can be so awesome with a little mingling at Meg's. It's always a party, and you're invited!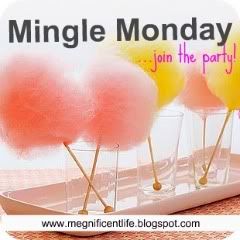 Things I learned this weekend
~January 2011 is no different than the last few years. Business wise at the salon, it's very slow
~Setting a new personal record (pr) time for a 5k is thrilling! 8:26 for 3.12 miles
~Catching up with old friends who live out of town is so amazingly wonderful!
~Time spent with friends, no matter how quick, is refreshing and good for the soul
~My friends have super cute kids, could also make a girl want her own {HAH!}
~Despite not having any clients on Sunday, I had the best day! Included lovely things such as:
*A morning walk on the beach with Miss Marlo dog
*15+ mile bike ride with Nicole
*time to grill all my chicken for the week
*Quick catch up time with friends I haven't seen in forever
*Dinner at Hulas Hawaiian grill in Santa Cruz for Billy's department appreciation dinner