"Keep your heart open to dreams. For as long as there's a dream, there is hope, and as long as there is hope, there is joy in living."
"I take nothing for granted. I now have only good days, or great days."
~Lance Armstrong
Happy Monday, my loves! I hope everyone had a wonderful weekend. Here is northern California, we were blessed with yet ANOTHER weekend of gorgeous weather. Low 70s in January? Yes, Please! I'm so very sorry for everyone who reads this from a much colder part of the country (or Canada, hi Alison!), I wish you many sunny days! Not sure if Meg is having it as usual, but you can still head on over to Life of Meg and join in the blog hopping party that is the wonderful Mingle Monday! Check out some cool new blogs, and hopefully grab some new followers in the process. It's a real love fest, that's for sure!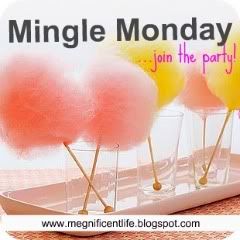 What I learned this weekend:
~Cooking Light magazine has amazing chicken recipes in the Jan/Feb issue, it's worth buying!
~My 15+mile bike ride from 2 weeks ago was NOTHING compared to the 7.5mile HILL ride I did with Nicole and her amazingly fit mom Carol on Sunday
~I have been lying to myself in spin class; I really need to add more resistance to get the proper hill effect
~Peanut butter and jelly sandwiches, while so good on their own, and SO MUCH better accompanied by a glass of milk
~Making women even prettier with cool new looks really warms my heart and gives me the greatest sense of accomplishment
~My new salon is filled with WILD and CRAZY girls! We had our salon holiday party on Saturday, and boy do those girls like to have fun!
~A grad party followed closely by a holiday party mean I ate far too much, and felt awful!
~My hubby can still make me laugh riotously and we really enjoy each others' company even with all the time we spend together <3
~I can make 3 dozen cupcakes and not eat a single one...as long as they leave my house immediately!
~Carbs, while tasting amazing, are truly not my friend when the weekend is over, the +lbs this morning proved it