I have all of 5 seconds to throw this here post together, so bear with me! Hope you had wonderful weekends, mine was busy, and the trend is continuing into the week. Hopefully I get a chance to sleep in, catch up on chores, and color my hair this week. We shall see ;)
Hope you are participating in Mingle Monday this week, I am!!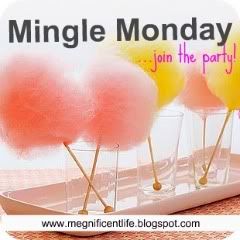 What I learned this weekend
~My clients who refer their friends to me rock
~Sometimes those new clients are amazing, and give big tips "just because you listened and were sweet!" <3
~Two 10 hour days back to back to exhausting.
~The time change really compounded the lack of sleep and long days, making me extra tired today
~Catching up with
Michelle
after her hair appointment was fantastic, love that girl!
~
Yelling
Talking very loudly in a crowded
Aqui
makes your throat raw and scratchy.
~Celebrating a sister-in-law's birthday with brownie bites is fabulous. Even more so when the hubby is the one doing the baking, giving me a break!
~I don't want to go to work this afternoon :(
~It's oddly warm today, with intermittent rain. Do not like.