Hello, Monday! Can I get a whoop whoop for the glorious start to a new week?
*crickets*
Yeah, I know you all aren't as into Mondays as I am, so I'll spare you the extra cheesy happiness ;)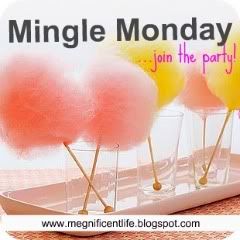 Don't forget to stop by Meg's and see if she is hosting Mingle Monday today. It's such a great blog hop, I love participating! Meg has been pretty busy lately, so her posts are a little thinner than usual, but I like to think it makes the posts she does write that much better!
If you want more of me, I am guest blogging over at
AOG Daily
on Tuesday, check it out and let me know what you think! It's my first guest blog, eek!
Tuesday is also my half birthday, woo hoo! I'm coming for you 27! No cake for me though, unless it's a protein brownie, and those just aren't in the same class as birthday cake.
What I learned this weekend
~A Costco trip is extremely necessary, as I have finished off all my staple foods
~My freshman high school small group girls are now of marrying age, as I just did the hair and makeup for one on Saturday. Time flies!
~True Blood is back, and I can't wait to see what trouble Sookie gets into this season
~5 mile runs ARE possible after not running for over a week, though they hurt more than usual
~Jillian Michaels is kicking my arse with her Making the Cut workouts, it's awesome!
~Clean eating does a body good, very fast! I lost 2lbs this week, effectively getting off my annoying plateau!
~My dog is being very bad and sneaking into the bedroom to eat the kitty food when I'm not looking....she did it twice on Sunday, the little punk!
~I'm having more good body image days than bad recently
~L'Oreal Sublime bronze tinted self-tanner lotion is a fabulous way to "tan from a can" with gorgeous dark tan results, but don't skimp on the rubbing in part, or you get streaks!
~Some wives will tip you additionally for cutting their husband's hair from an old man 'fro to a really cute style
~Another bad side effect of weight loss is the disappearance of my chest and bum. The bum I said goodbye to last year when I literally "ran my ass off", and now the girls are looking a little deflated, and well, junior high-ish, which makes me incredibly sad. If I don't find a house to buy this year, maybe I'll buy me some!