Happy end of Monday! It was hot one here, I think it reached a high of 95 degrees. I realized today that though I have been missing a warm summer so far, I am not a fan of hot weather...which is over 85 degrees to me. I hope you all are staying nice and cool wherever you are, and you had nice weekends too!
Make sure you stop by Mingle Monday over at
Life of Meg
, it runs until Wednesday!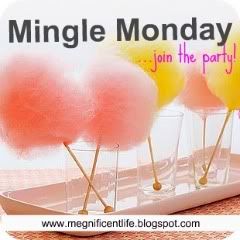 I haven't posted a recipe in awhile, so I figured I would share one that has been a staple of my diet lately. I have made some form of this recipe four times in the last few weeks because it is easy, healthy, and keeps me on track with my diet.
Mini Meatloaf Muffins
1lb lean ground turkey
1 zucchini and 1 yellow squash, grated
1/2 green bell pepper, diced
1 tsp garlic powder
1 tsp Mrs. Dash southwest chipotle seasoning
1 tsp cumin
1/2 tsp salt
1/2 tsp pepper
Preheat an oven to 400 degrees. Coat a mini muffin pan or rimmed baking sheet with cooking spray. In a large bowl combine all ingredients. Mixture will be very wet, just go with it. I like to use my hands for this part, it's satisfying. Split the turkey mixture into fourths, then scoop up small handfuls and roll into balls. Either place in muffin tin, or onto baking sheet. You should get 24 mini muffins or meatballs, make sure they are even. Bake for 15-20 minutes, and then let cool in pan for about 5 minutes before serving. Since turkey is very lean, it dries out easily and can be bland, this method keeps the turkey moist and flavorful.
1 serving is 4 muffins which will be about 5oz cooked and is about 180 calories.
Another variation of this recipe is to halve the amount of squash used, and add half a block of light cream cheese and a mashed sweet potato. You can serve the muffins with spaghetti squash or a salad if you want to stay low carb like me, or with any other side that strikes your fancy, such as a dollop of mashed potatoes on top...mmmm mashed potatoes!