I met Amber in high school, about 10 years ago now. A few weeks ago, I had the distinct pleasure of making her even more beautiful on her wedding day. Her photographer,
Tom Vo
, was super quick getting her photos posted to Facebook, where I was able to grab a few to share with you!
Gorgeous, right?!
Amber has been my makeup model before, see!
I'm just really lucky to have so many beautiful acquaintances!
Oh yeah, HAPPY MONDAY!!
*do a little dance, shake my little bum bum, twirl around, perhaps fall down*
What, not excited about Mondays like me? That's OK, you can always head over to
Life of Meg
for some Mingle Monday action, which never fails to make me love Mondays just a bit more.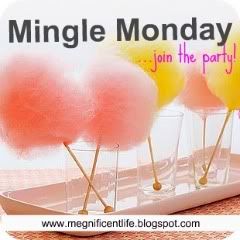 I am off work through Friday, with no real vacation plans.I'll just be doing a lot of making things up on the spot for myself to do so I feel busy and important, and hanging out with my Mr. B today and tomorrow, as he has them off as well! Can't wait to get to creating busy work for us haha! Hope you all have a wonderful week, hopefully I'll be checking in more frequently this week :)