First off, I must give a Sunday shout out, as it was my wonderful hubby's birthday! Happy birthday to you, Billy!
May 29 bring you even more fun, excitement and love! I can't wait to share another year together. I look forward to all of the adventures, laughs, and cuddles that are in store for us!
That handsome devil with his tongue out would be my Billy, and the smiley one behind him is Kenny, our brother in law. Isn't the Frankenstein birthday cake awesome? Billy's mama made it, and our nephew Tyler helped frost it too.
Now, on to today! Hello, Halloween!! Wheeee, it's one of my favorite days of the year! I will have many more exclamation marks in this post, so get into the groove with me here.
I was really bummed on Saturday night, as I sat on the couch scrolling through the abundant Twitter and Facebook pictures from Halloween parties. I was babysitting, so at least I got paid, but I was sad nonetheless to not be out and dressed up. I absolutely LOVE dressing up. Give me any reason to, and I will have a costume on in no time. I even have a giant plastic tote filled with costume pieces from over the years that I can dip into for inspiration if I don't feel like finding something new. Today, since it's a Monday, there won't be any place to wear my costume to, but I decided to create a quick and easy something to wear to work with the kiddos this afternoon. It's totally G rated, not one of those typical slutty girl costumes, though I am not above them in the least. I like to skank it up with the best of them. When appropriate, of course. This is evidenced by some of my previous costumes.
2006 Lois Lane and Clark Kent. Photo from photobucket, as I lost all of my photos in the horrible Windows 7 OS upgrade.
2007 Sexy cop. Billy was Mario of Super Mario Bros with Kenny as Luigi. No pics, see above explanation of all photos prior to 2009. I dressed as a bumble bee for work though and have a photo!
2008 Skanky little Red Riding Hood. Billy was a "hot chick".
2009 Sookie Stackhouse from True Blood and the Charlain Harris series. I made my Merlotte's shirt, and ordered the apron online for like $4, it was a cheap costume! Billy was a warelion for good measure.
2010 Anita Blake, Vampire Hunter from the Laurell K. Hamilton series, Billy was a zombie, which is appropriate because Anita is a necromancer and raises the dead. I loved my black wig!
This year, I am dressing up as an old timey robber of sorts :) Black and white striped shirt, and black mask are all the kids are getting from me. I loved this inspiration photo! I'll post photos later to share, of course!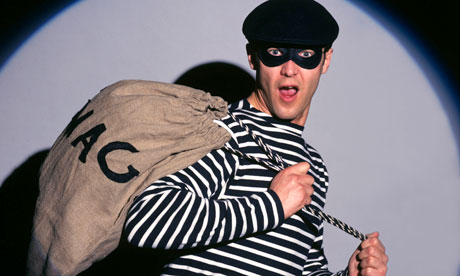 Other notable costumes that weren't for Halloween:
Lion and Lion Tamer for a costume party in 2009.
Pimps and Hos party from 2007ish?
Wouldn't these be fun too?!
What are you dressing up as for Halloween?
What's your favorite costume ever?
If you don't dress up, what do you like to do instead?