Happy Friday lovelies!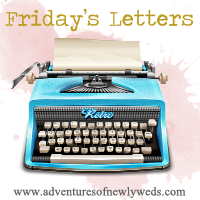 Dear Billy, thank you for being such an amazing husband. It was wonderful to celebrate another anniversary with you, even if we really don't "celebrate anniversaries" much :) Also, thank you for putting up with my "needs" lately, and for not letting us act on them in fear of an unwanted pregnancy with my super eggs on the loose. How you stopped my fervent advances, I will never know, and now I realize you have the restraint of a saint!
Dear Sadie, how are you so cute? Even when you ran away from me at the park and headed straight to a BBQ, I couldn't get mad at you because your full on sprint is pretty amazing. I love how much you cuddle too! Your morning ritual of squirming and rubbing yourself all over me is ridiculous and so sweet. Every time I come home, no matter how long it's been, you make my entire day with your enthusiasm and joy!
Dear weather, please don't freak out and send in rain and thunderstorms as forecast. I am really looking forward to an afternoon run and par course exercises with
Ashley
and her friend Kate. Thunderstorms would really put a damper on our excursion.
Dear Ashley, thanks for hosting, yet again! You are such a sweetheart, and it's been great hanging out with you! Having someone to hike and hangout with during the week when everyone else is at work is awesome. I am stoked about our upcoming photoshoot, it's going to be fun!