Happy Monday, folks! I'm sneaking in a post today because I have a later start at work, and well, I miss Monday posts! If you have some time today and want to get extra blog exposure, head on over to
Life of Meg
's Mingle Monday blog hop!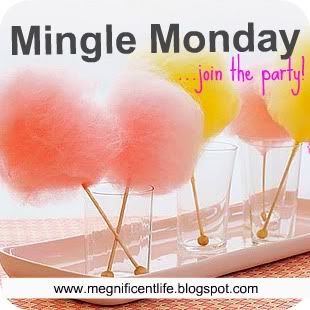 Another wedding filled weekend has gone by, having done hair and makeup for two bridal parties, as well as a nice couple of days at the salon to cap it off. Nothing new or exciting happened, I save those experiences for my "weekend" which is usually Wednesday and Thursday.
Speaking of my weekend, last week Billy and I tried a new to us New Orleans style restaurant called
Poor House Bistro
. I ordered a BBQ chicken Po'boy sandwich, Billy and I split an order of sausage bread, and he got a burger, as usual.
My BBQ chicken sandwich had "spicy" written next to it on the menu, so I assumed it would have a little kick. You know what they say about assuming. That "spicy" was an understatement. My mouth was on fire, and there were no other flavors except for HOT! I tried valiantly to eat as much as I could, but my nose was running, my eyes were tearing up, and I think my throat was trying to close up to keep me from my task. I ended up scraping out most of the meat and eating a little of the bread and produce, and my cornbread muffin with lots of butter came in handy. Never again will this little white girl with no tolerance for heat order something that has "spicy" written next to it! I should have just ordered the beignets like I had wanted to in the first place :)
While at PHB, I was snapping pics of my food to be a good blogger, and I had Billy take the one of me with my food that I posted above. Since I liked it so much, I asked him to take ONE more without my food. Billy decided to play photoshoot instead, so here are the rest of the photos, complete with shut eyes and funny faces! I love that husband of mine, even if he doesn't take direction well haha