Head on over and check out
Cassie's blog
and see what sorts of tastiness she has created lately!
----------
There are some things in life that just go together well, but none so perfectly as chocolate and peanut butter! The sweet and salty combination is just fabulous, and I am sure 9 out of 10 of you would agree. I'm not even thinking about the people who don't like this combination, because I want to keep you as friends, and if I knew, well then, we couldn't be friends.
Last week Billy's eldest sister celebrated her birthday, and requested chocolate peanut butter cupcakes. I was more than happy to oblige the birthday girl, and though I didn't admit it at first, I knew I was going to have a cupcake, processed sugar be damned. Let's just call it a cheat day. I actually ended up having two cupcakes and a slice of Mama's jelly roll cake. I couldn't help it, once I had a bite of sugar, I needed more. Thankfully I only had a few cravings the next day, and have been able to stick to my no processed sugar plan since.
So for Tasty Tuesday this week, I am bringing you my chocolate peanut butter cupcakes! they were a hit with the family, and had just the right amount of mmm mmmm good to them. I actually think these are the best cupcakes I have made in the last 6 months or so, since there have been some total failures in baking on my part.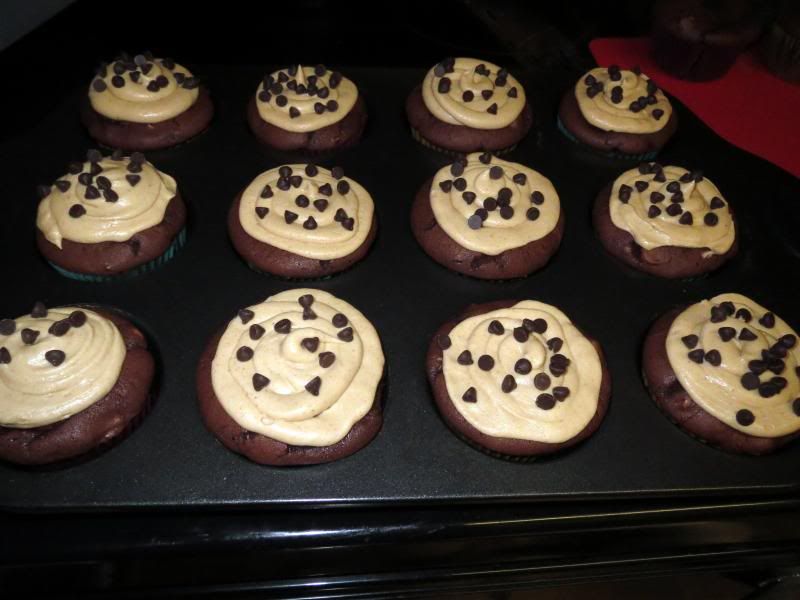 Chocolate Peanut Butter cupcakes
Ingredients:
Chocolate cake
1 box Duncan Hines devil's food cake
1 small box Jell-o chocolate fudge pudding mix
4 egg whites
1 cup sour cream
1/3 cup vegetable oil
1/2 cup water
1 cup peanut butter chips
Directions:
Preheat oven to 350F. Line two cupcake tins with liners. In a large bowl, mix together egg whites, sour cream, oil, and water. Add the cake mix and the pudding mix, mixing on low speed until combined. Mix on medium speed for four minutes. the batter will be very thick and pudding-y. Gently fold in the peanut butter chips. Using a small ice cream or medium cookie scoop, fill cupcake liners 3/4 of the way full. Bake for about 30 minutes, or until a toothpick inserted in the center comes out clean. Remove from pans and allow to cool on wire racks. I tossed mine in the freezer for ten minutes because I was in a time crunch.
Peanut Butter buttercream frosting
Ingredients:
8 tbsp butter
1/2 cup smooth peanut butter
1-2 cups powdered sugar (I used about 1 1/2 cups)
1 pinch salt
1 tsp vanilla
1 tbsp milk
3/4 cup mini chocolate chips for garnish
Directions:
In a large mixing bowl fitted with a wire whisk, beat together butter and peanut butter until smooth. Add powdered sugar and salt slowly, beating between each scoop until combined. Add in vanilla and milk, beat on low until combined. Beat on medium high for 3-4 minutes, scraping down the sides once or twice, until the frosting is fluffy. You can vary the amount of powdered sugar and milk you add to get the consistency you are looking for. I scooped my frosting into a pipping bag fitted with a large circle frosting tip, then put in the fridge to harden for about 5 minutes. Pipe onto cupcakes, then sprinkled with chocolate chips.
Let me assure you, these are delicious! The addition of the sour cream and pudding to the cake mix makes for a more durable, and slightly denser cake, and the peanut butter frosting is the perfect blend of salty peanut butter and sweet sugar. I'm actually dying for another cupcake right now as I type, but I will be strong and resist the power of sugar!
Do yourself a favor and make these the next time you need cupcakes, you will love them!